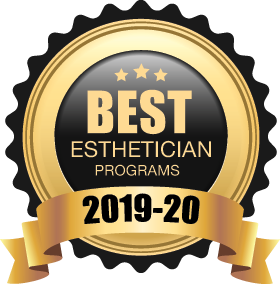 One thing about people who go into esthetics is that they all share a certain creative ethos. It's more than just a job, it's a lifestyle. And because the training you need is all part of the life you're building for yourself, you're not shooting for second best. You're interested in living your dream, not just punching a clock. And since you're going to be bringing your personal best to the work you do every day, you want the best training program you can find.
You're not alone, and that's why there aren't many takers for esthetics programs that aren't at the top of the heap. This is your career after all, so you really can't compromise when it comes to getting quality hands-on training and an education that covers everything from the science of skincare to practical business skills. You want to walk out of school with not only the qualifications you need to get a license to practice, but also the things you need to be effective and successful in that practice:
Deep knowledge of chemistry and skincare physiology
Training on the most up-to-date techniques and equipment
Business savvy to make sure you can pay the bills as well as practice your craft
What all this means is that you'll be putting some time and effort into picking the best possible school – and that's exactly what brought you to this list.
We're here to make that choice a little easier by giving you our top picks for the best esthetics programs in every state in the U.S.
Why Accreditation Matters For Esthetics Programs
We only looked at schools that have been accredited by the NACCAS (National Accrediting Commission of Career Arts & Sciences) or those that have submitted applications and been cleared for candidate status. NACCAS is an acronym you definitely want to look for as you consider different esthetics programs. This accreditation agency is among the few independent, U.S. Department of Education-approved organizations that evaluate beauty schools in the United States.
Unlike our website, though, NACCAS doesn't evaluate schools so they can pick winners. Instead, they simply look at the essential elements the beauty industry expects of today's new graduates so they can verify the curriculum teaches those skills competently and honestly. Even beyond curriculum, a comprehensive review from the NACCAS covers things like:
Professionalism and administrative resources
Faculty and instructor qualification standards
Operating procedures and formal standards for grading and graduation
Put together, NACCAS accreditation amounts to having all the basics in place to teach esthetics properly.
There are more than 600 esthetics programs offered through NACCAS-accredited and candidate schools, so it was just the first filter in the vetting process to give us a starting point for our evaluations.
Beyond Just Accreditation – The Elements that Go Into Esthetics Programs We Feel Confident Calling the Very Best
So how did we pick the very best from that massive list of NACCAS-accredited schools? Well, we dug deep and looked at what else those schools had to offer, giving the most weight to the things we know mean the most to students of esthiology. Only programs that hit the top end for a variety of qualifiers made the cut here.
Product Partnerships With Top Vendors
If you want to learn how to provide esthetics services, then you need to understand the materials you have to work with. That means getting familiar with the product lines on the market… and not all are created equal.
Schools that have forged partnerships with high-end vendors like Dermologica, Aveda, and MUD Makeup put the best products on the market in your hands, and also come with the training you need to understand the science behind them and how to use them properly. It also says a lot about the quality of a beauty school when one of the big names in the business puts their reputation on the line by forming a partnership like this. You can be sure we gave serious consideration to any school out there that has established relationships with top product lines.
High End Facilities That Help You Shine
No one wants to learn their esthetics skills in the back of a bodega. Your surroundings should reflect the standards that you and the school hold yourself to, and that means clean, well-lit spaces with plenty of room to study and practice, access to all the right tools for the job, and the kind of decor that inspires. Beautiful surroundings helps to attract customers and allows your creativity to flourish, and the best schools offer some of the best spaces for you to shine.
Pivot Point International Member Schools Teach High End Spa Services
Beauty schools that offer the Pivot Point curriculum are set up to deliver a master class in the kind of luxury services that clients who frequent high-end salons and spas demand. These schools are the ones that go beyond the status quo, offering an extra layer of richness to the educational experience. They are decidedly unique, both in terms of the student experience they offer and the philosophy behind their approach to esthiology. As a result, these schools piqued our curiosity enough to get a second look in our evaluation process.
Business Skills To Offer Independence and Grounding
At the end of the day, your career in esthetics needs to be able to support you and your family, so we won't gloss over the importance of getting the kind of skills you need to make sure your business is profitable. In a largely independent and creative field, understanding the elements that go into building and maintaining a healthy and sustainable business are critical. Schools that go beyond the business basics to integrate critical skills in marketing, customer relations, and bookkeeping into their curriculum got high marks in our evaluation.
CIDESCO Certification Goes The Extra Mile
Some schools offer the opportunity to earn your CIDESCO certification while you complete your esthetics program and satisfy the qualifications for your state license. This is a highly respected credential that can elevate your reputation on day one. The Comite International d'Esthetique et de Cosmetologie teaches in-demand treatments the European way, giving you the edge that comes with having a certain Continental sensibility in your approach to esthetics. That edge is something we know many students of esthiology are looking for, so when we saw a program offering CIDESCO Certification it definitely caught our attention.
High-tech Training Takes Advantage Of New Developments
High-tech isn't just going into phone upgrades these days; technology is completely changing skin care and treatment, from scientific diagnostic tests to advanced laser therapies. In an industry that is changing quickly with the introduction of these tools, you want a school that's going to instruct you in the latest and greatest in the state-of-the-art technology being used in today's salons and medi-spas.
A Little Something Extra Can Mean a Lot
An esthetics program isn't required, or even expected, to provide training beyond what state boards require for licensing. But the best schools don't stop their curriculum development after checking the boxes for state licensing requirements. These schools look at what the industry demands and incorporate it into the learning experience. In some cases this means offering more training hours than the state board requires. In others it might mean advanced training in makeup and beatification to cover things like lash extensions and airbrush makeup. Some even offer advanced training at the high tech end of the business, covering things like ultrasonic microcurrent systems, or offering additional certification in laser treatment. Whatever the case might be, when we found a program that went above and beyond state licensing requirements, we couldn't help but take another look.
Graduation and Job Placement Rates
Most schools have gotten wise to the benefits of offering the kind of training and curriculum we can all recognize as offering the best preparation for students starting a career in esthetics, but that doesn't mean they've all mastered it.
If ever we felt a final tiebreaker was necessary, we went with the ultimate indicator that a program could deliver on its promises: graduation and job placement rates. At the end of the day, how many enrollees actually complete a program, and how many of those go on to find gainful employment, is the ultimate test of how the esthetics market judges the quality of a school.
Although not all schools are required to publish this information, any program that graduates more than 10 students per year does make the data readily available. Though we didn't use it to disqualify any school outright, when the info was there to verify, we always reviewed it, and in some cases these numbers were the difference between a program making the cut or getting passed over.
Top Picks for the Best Esthetics Programs in Each State
Here you'll find our top picks for the best esthetics programs, all organized by state. In most cases there's just one per state, though we were glad to include more when we identified multiple options we felt were worthy of our list.
With hard work and the right training you'll join the ranks of the licensed estheticians out there making the world a little bit more beautiful everyday. These programs will give you the training you need to get there.
This list features programs that our editorial staff hand selected to present as top recommendations. We believe the many aspects of a program that come together to create an exceptional student experience can't be reduced to numbers alone, so no formula was used to attempt to score or rank these programs. Instead, they represent our top picks based on a thoughtful review of the things we know mean the most to students. Each one of these programs offers something unique, and all come equally highly recommended. We stand behind the principal of editorial integrity and make these recommendations independently and without compensation.